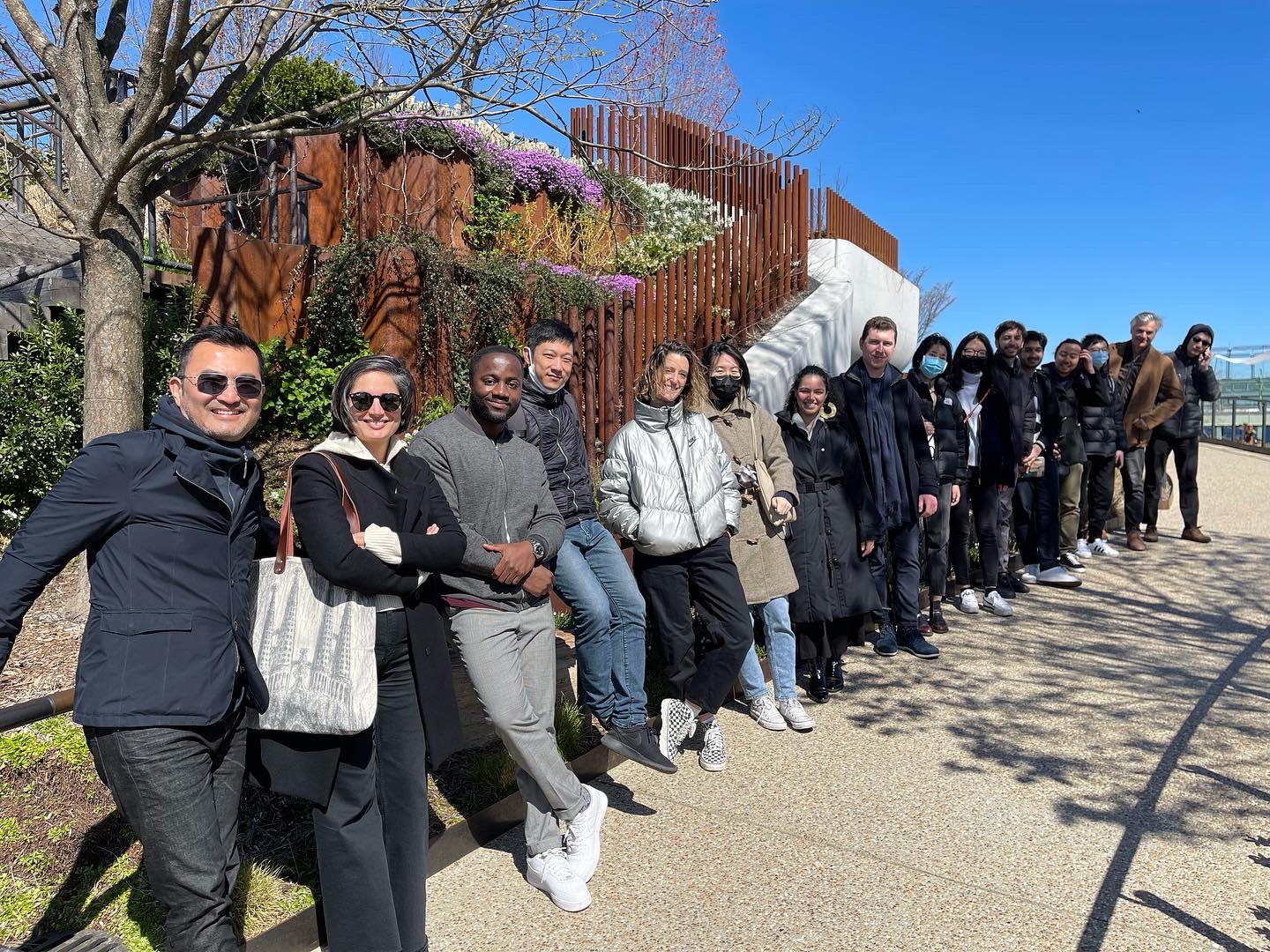 Having a combined work experience of over 30 years on signature museum, civic and institutional projects worldwide, the founding members, Hiroshi Okamoto and Bing Lin joined their expertise in collaboration forming OLI Architecture PLLC in 2010.
With a vision towards the future, accompanied by a vast disciplinary understanding of the built environment, and respect of the specific cultural parameters of each project, the firm offers full service architectural design. OLI's specialty expertise consists of civic and cultural building design, museography, exhibition design, education, healthcare, and custom residential design.
The firm's approach is to investigate the specific nature of each project to craft a design response to meet the aspirations of the client, stakeholders, and the detailed requirements of the future occupants. OLI transforms these contextual studies using physical, digital, and parametric models, and computational analyses to create the unique tectonics of each project. These are then articulated with local construction practices and standards to create a unique building that merges with the cultural environment of its site.
OLI is a design office with broad international experience working in collaboration with various clients and municipalities, bringing their vision to fruition through award winning, singular architectural environments. Core services offered include Programming, Planning, Architectural Concept Design through Construction Documentation and Construction Administration.
Mr. Bing Lin was born in Shanghai, China. At the age of 19, Mr. Lin went to study at Washington State University. He earned Bachelor of Science in 1994, and Bachelor of Architecture, cum laude, in 1995. He received Master of Science in Architecture and Urban Design from Columbia University in 1997.

From 1995 to 1997, Mr. Lin worked at NBBJ's Seattle head office. From 1998 to 2010, Mr. Lin worked at Pei

Partnership Architects. He was the Director of Asian Development. He participated in the design of Suzhou Museum, Chinese Embassy in Washington D.C. He was the site architect for the Suzhou Museum and project manager Chinese Embassy. From 2010 to 2012, Mr. Lin was the Chief Architect for the Shanghai International Financial Centre representing Shanghai Stock Exchange, Chinese Financial Futures Exchange and China Clearing Corporation.

In 2012, Mr. Lin cofounded OLI Architecture PLLC, with offices in New York, Shanghai and Paris. Since the founding of OLI, Mr. Lin lead and participated in the design of MuXin Museum, Suzhou Embroidery Museum, Shanghai Stock Exchange Trading Hall, Suzhou Taohuawu Woodblock Museum, Tencent Shanghai Office,Anjiplay Kindergarten and Early Childhood Education Center, Peking University Shiheng School, Fangsuo Commune Shanghai, Ascentage Pharma R&D Center, Washington University Suzhou International Hospital, Chengdu Pompidou Cosmopolis #1.5 Englarged Intelligence Art Exhibition, Beijing Palace Museum Scholar's Annual Exhibition and Soochow Securities Headquarter.

In addition to architectural practice, Mr. Lin was a guest professor at Universidad Iberoamericana. He has been the guest critic at Columbia University, Hong Kong University, Xi'an Jiaotong-Liverpool University. In 2004, he translated and wrote the Chinese Edition of Conversation with I. M. Pei and received the Non-fiction Book of The Year Award in Taiwan. IN 2011. Mr. Lin was the chief reviewer for the Chinese edition of I. M. Pei's complete works. In 2017 and 2022, Mr. Lin was the curator of the exhibition titled I. M. Pei Documents for Suzhou Art Museum.

Hiroshi Okamoto

Principal, AIA, LEED AP

Hiroshi Okamoto is a member of the American Institute of Architects and a LEED Accredited Professional, licensed in New York and New Jersey. He graduated from Cornell University with a Bachelor of Architecture degree in 1992 and from the Massachusetts Institute of Technology with a Master of Science degree in Architectural Studies in 2000.

From 1994-1998, Mr. Okamoto was employed with the Ushida Findlay Partnership in Japan, and with the Joint Venture of Nikken Sekkei, Tohata Gumi and RTKL International, on the Saitama Koiki Godochosha, the large-scale Tokyo decentralization project completed in 1998.

From 2001 to 2012, Mr. Okamoto worked with I. M. Pei on the Museum of Contemporary Art, Athens (2001-2002); as a Designer, Site Representative and Construction Administrator of the Museum of Islamic Art, Doha (2001–2008); and as the Project Architect of the Chapel at the Miho Institute of Aesthetics (2008-2012) in Shigaraki, Japan, I.M. Pei's last project. From 2008-2012, Mr. Okamoto was an independent design consultant and the Design Architect and Project Manager for the Museum of Islamic Art Park in Doha, where in collaboration with Richard Serra he designed, at the end of the manmade park peninsula, a cantilevered stone pier for Serra's sculpture 7 (2011).

In 2010, Mr. Okamoto founded OLI Architecture PLLC and has been the design principal and project architect for the MuXin Art Museum (2011-2015), the Chengdu Silk Art Culture Museum (2012-2016), and the Museum of Islamic Art Renovation (2015-2017) in Doha, Qatar. In 2018, after being featured in the reboot of BBC's Civilizations, the MuXin Art Museum was listed in the Financial Times as one of Simon Schama's 10 Forgotten Wonders of the World. Other accolades won by the museum are:

Winner of the 2016 AIANYS Award of Merit: Architecture/Institutional.
Winner of the 2016 German Design Council Iconic Award Best of Best: Museum Architecture.
Shortlist Finalist for the 2016 World Architecture Festival: Culture/Completed Buildings.
Winner of the 2015 Concrete Industry Board Roger H. Corbetta Award of Merit: Out of Country.

Other notable projects Mr. Okamoto has led are: the Tencent Shanghai Cloud Services office design (2017-2018), the signage and environmental graphic design in collaboration with Pentagram for OMA's Tencent Beijing HQ (2018), the retail concept designs for Amplitude (2018 – on going), the homegrown high-end cosmetic line launched by the Japanese cosmetic giant, POLA, which has been implemented in eleven of the most traffic retail locations in Japan; and the London Cross Pavilion (2015-2020): a purpose built private commission in Westchester NY, to house Richard Serra's London Cross (2014), which was first shown in the Gagosian Gallery in London. The Pavilion, another collaboration with Serra, was a 2021 World Architecture Festival Finalist, and the winner of the 2020 AIANY Projects Award of Merit).

Recently completed and current ongoing projects Mr. Okamoto is working on are: the Ascentage Pharma R&D Headquarters (2018 – 2022), for the Hong Kong listed pharmaceutical company Ascentage, the design of the AnjiPlay Kindergarten and Early Childhood Education Center (2015 – Present), the Diageo Jade – Single Malt Whiskey Distillery and Visitor Center (2020 – Present), and The Passage of Time Art Park (2021 – Present), a 15.5 acre art park in NW Florida with a purpose built pavilion housing Richard Serra's Passage of Time (2012).
Christos Athanasopoulos

Int'l Assoc. AIA. Senior Technical Architect/ Project Manager

With an architecture career spanning more than 25 years, Christos was engaged in the past in a variety of high-profile projects, for diverse market sectors, both in the US and Europe. As a senior technical architect with OLI, he combines complex problem-solving with a creative mind. With a passion for art and science, he appreciates the advancement of technology to create a better experience for each project. Christos holds a Master of Architecture I from AUT and is an International Associate of the American Institute of Architects.

Dongshin Lee

Associate Principal, RA

Dongshin Lee graduated from Korea University with a Bachelor of Architecture and from Cornell University with a Master of Architecture. While he was a student, Mr. Lee worked as a Java programmer, developing an interest in parametrics and scripting as a design tool.

Mr. Lee worked on high-profile projects for the Architects Group See in Seoul, Perkins & Will, Ehrenkrantz Eckstut & Kuhn Architects, and Perkins Eastman in New York. He joined OLI Architecture in 2011 and since then has been leading various cultural, residential, and commercial projects including London Cross Pavilion, Modern Florida Vernacular House, Palace Museum Exhibition, No1 Bund, Luoyang Museum, 6 Cove Grove, Yao Poly, House for an Artist, and Stone Carving Museum.

Mahnaz Maroufi

Associate Principal

Mahnaz Maroufi graduated from the University of Pennsylvania in Master of Environmental Building Design and has earned both a Bachelor and Master in Architecture with honors from the University of Tehran.

Following her professional education, she worked from 2009 to 2011 as an architect in Iran, where she designed a house in her hometown Isfahan.

Mahnaz joined OLI Architecture in 2013 and since then she has been participating on various international residential, cultural, and educational projects including CSAC Museum, CSEAM Museum, Museum of Islamic Art Terrace Renovation, Guanghui Museum, Wood Block Museum, Y Office, Y Residence, Tencent Shanghai Office, Symphony Orthodontics, and a few competitions. She led Anji Play project from programing to construction. Currently, she is the project manager for POT Art Park project.
Benjamin Gomez Arango

Design Architect

Benjamin Gomez Arango is an architect with expertise in residential, collective housing, civic, and public architecture. He has a bachelor's degree in architecture from Pontificia Bolivariana University and an M.S. in Advanced Architectural Design from Columbia University. With over 6 years of professional experience, Benjamin has worked on projects in both South and North America. He joined OLI Architecture in 2021 and is currently based in New York City.

Sanghoon Seo

Senior Architect

Sanghoon Seo holds a Master's degree in Architecture (GAUD) from the Graduate School of Design at Pratt Institute (2018), and a Bachelor's degree in Architecture (SAK) from Kyonggi University, Seoul, Korea (2012).

Ferda Kolatan and Kutan Ayata have most recently influenced his works. He uses various software programs and enjoys experimenting with creating abstract objects and drawings. Sanghoon's current research focuses on topics in hybrid between mechanical objects and existing Architecture elements. He is practicing at OLI Architecture in New York since October 2018.

Yuichi Tada

Senior Architect

Yuichi Tada graduated from the University of California, Los Angeles with a Bachelor of Art in Architectural Studies and a Master of Architecture. After his professional education, Yuichi moved to New York City and honed his skills working on a diverse range of projects, including high-end residential, institutional, retail, restaurant, and hospitality at several offices. During this time, he gained valuable practical knowledge, honed his project management skills, and developed a keen sense of business acumen. In 2016, Yuichi joined OLI Architecture PLLC, where he currently, manages various program and scale design projects. His broad experience and expert knowledge make him an invaluable asset to the firm and the broader architectural community.
Chunxin Yu

Junior Architect

Chunxin received her Master of Architecture from Rhode Island School of Design in 2022. Previously, she earned a Bachelor's Degree in Studio Art from Oberlin College, where she explored her fascination with cultural background and bodily experience in the format of installations. She transitioned to pursue architecture with an ambition of creating socially responsible space from an intimate perspective. She is most interested in investigating the interactive and experiential nature of public architecture and its dialogue with the natural and urban landscape.

Kojo Quainoo

Junior Architect

Kojo is an architectural designer with nearly 5 years of relevant experience in designing and realizing built work. With a diverse cultural background spanning from Africa through Europe to North America, his design ethos reflects and draws from these experiences to create multicultural and inclusive designs. He holds a Master of Architecture from Syracuse University, USA and a Bachelor of Science in Architecture from KNUST, Ghana.

Aleksandr Dmitrashchuk

Junior Architect

Aleksandr Dmitrashchuk holds a Master of Science in Advanced Architectural Design from Cornell University, which he pursued after graduating with a Bachelor of Architecture from Cornell. His research revolves around adaptable architecture as a more sustainable and lasting approach to designing built environment.

Alex joined OLI in 2022 and has been a valuable team member on the Diageo Jade project. He brings his experience of cultural and institutional projects into his work.
Haoyu Wang

Junior Architect

Haoyu Wang graduated from Southwest Jiaotong University with a Bachelor of Landscape Architecture and University of California, Berkeley with a Master of Architecture.
She joined OLI Architecture in 2021.

Luz Wallace

Junior Architect

Luz Wallace, LEED Green Assoc. is a designer at OLI Architecture since 2022. She is also a visiting professor at Pratt Institute teaching advanced architectural studio and media representation. She is the recipient of the AIA Henry Adams Medal Award, and SARA national award for student research. Her work for "synthetic landscapes" has been exhibited at the Berlin design week exhibition. Previously, she worked at Christian Duvernois Landscape Studio in NYC. During almost 5 years there she was involved with the design of several award winning Urban native green roofs and permaculture gardens. She is a founding member of DEI organization at Pratt Institute and has collaborated with NOMAS and Pratt Futures lecture series to foster diversity and equality in the architecture curriculum. Her current focus is on design, architectural technologies and landscapes.

Jiahua(Max) Cai

Junior Architect

Max is an Architectural designer graduated from Pratt Institute with a Bachelor of Architecture and from Columbia University with a Master of Advanced Architectural Design. He joined in OLI Architecture in 2022.
Ruijing Sun

Junior Architect

Ruijing graduated from North China University of Technology with a Bachelor of Architecture and Columbia University in the City of New York with M.S. Advanced Architectural Design. She joined OLI Architecture in 2021.
Usam il mi, temod quide
Iciendebis modiatem ulla vel minveritest
Ovidis suntecuptur adi omnis mo odici se arum voluptatibus re niminis eos ipsus, utatibus accuptas di conestiatem anisinum consequid quam fugiat es il mi, quam quibustrum venitate namus que nos remporibus, nonsed et asperov ideres natum evendel iciati te ipsae volupisquam, arcid elitatia dolecte mpelis et rem lantore ctescia temperum fuga. Ut ut pratis est eat volupiendant eossima iorerat doluptatias aribus, sitati ut aditatium, quuntiunt que que vel magnisti aliquostenis quae officilitat que aliquam estior aut magnatiae. Nempedistis audam rem experi omniminime pa sum, occum, volesciet eatur maio. Itaerio nsequaecum aceatem landeliscius simenducit abor ad qui delictas estem quam si dem quae mil etur magnam re volum eos eaquidebis ut ullabo. Et hiliquatur? Epta velia quiatus aut laut fugit qui nonsedis ditibus, vene nobist ipient.
One doluptaspel ipis estrum fugiatur rernatem. Velenda aut eossita temperio ma siti dolorep eliquist omnis nost reri aut voloreium a nus ut pratior iberiat. Lenisquam, quias dolorro con renimi, totas volupta teniae inte si nus aut ellest, in reris dis quos dolorestorem quaestium que nis acipsant et eatur sam