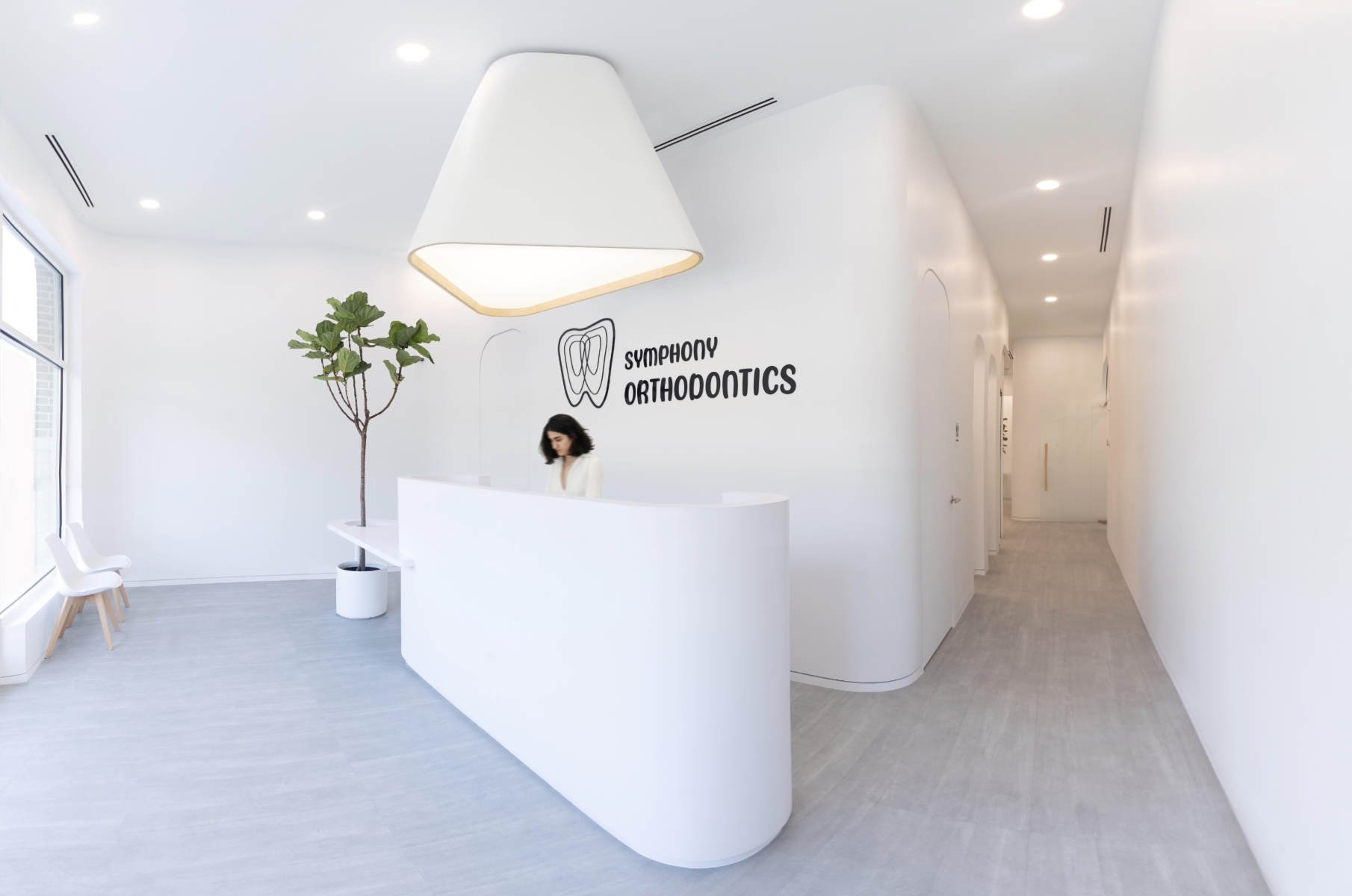 Symphony Orthodontics
Design: 2021
Construction: 2022
• 2023 Interiors Awards Finalists Announced: Healthcare
Symphony Orthodontics is a 1,500 ft2 clinic founded by an Orthodontic specialist, in an area of Virginia with a latent demand for treatment. The client sought a welcoming and inclusive strategy for her first outpost, to gain the trust of new patients. The design of the new clinic also needed to feel innovative to reflect the state-of-the-art treatments on offer and generate a buzz in the community.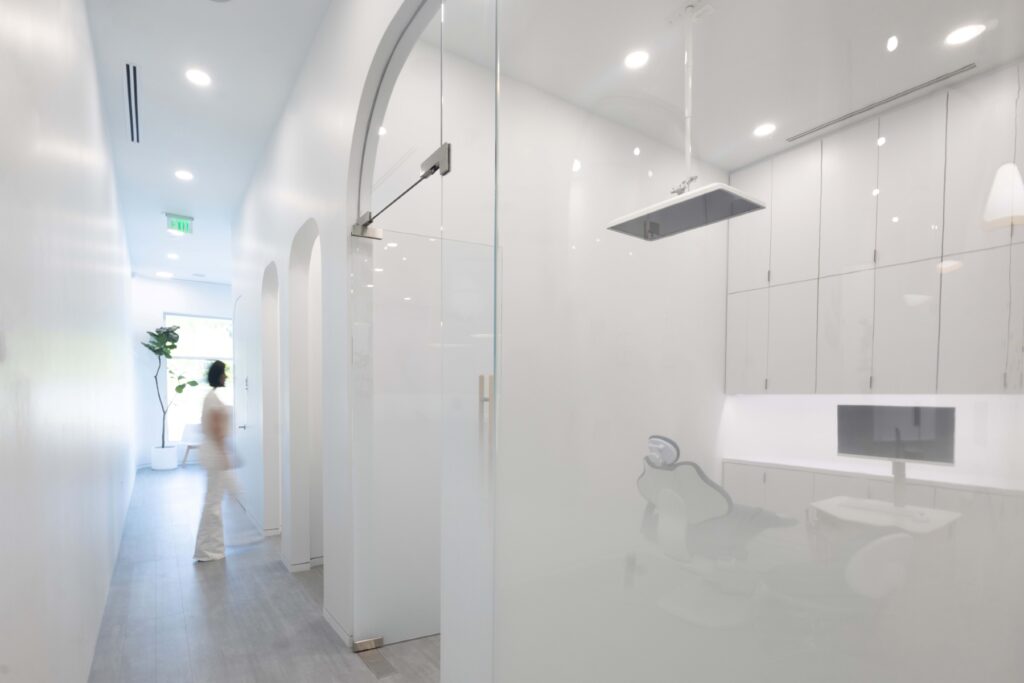 To meet this challenge, OLI Architecture designed a series of flowing open and enclosed spaces with sinuous organic lines. The integration of white surfaces (which enhance levels of natural light) and live trees throughout the space are strategies deployed in Evidence-Based Design (EBD) to promote healing and reduce stress. Ultimately, the desire was to elevate the space beyond a medical environment, with attention also given to custom millwork surfaces, from a curved reception desk and volumetric sculpted lights to frameless curved wood doors. Quality craftsmanship and custom-made details take priority over ready-made commercial products to highlight the clinic's custom-made treatment approach.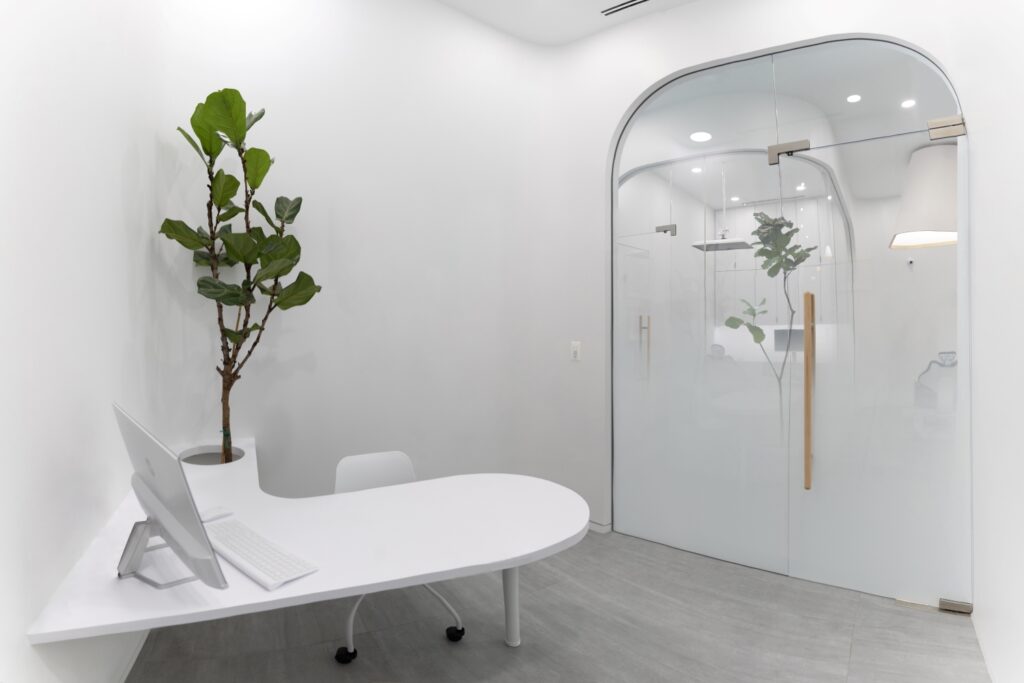 Incorporating a complex and varied program within a narrow, linear footprint posed a unique design challenge. While fluidity, connectivity and efficiency are key in times of high foot traffic, it was important to maintain strict programmatic delineations, such as between the public waiting room, treatment areas and delivery access. The fine balance between public and private is also achieved by incorporating elements such as gradient frosted glass, which maintains privacy and keeps patients at ease, while creating visual and cognitive transparency between staff and patients.
An emphasis on sustainability was threaded throughout the project. All materials, even the low-iron, ultra-clear curved-glass partitions, were locally sourced. Every light received an LED bulb and motion-sensor, including the striking ornamental fixtures. Motorized outdoor air dampers and exterior door seals decrease HVAC loads, while insulated partitions and ceiling cavities boost R values. Monolithic white volumes and surfaces, together with high ceilings, maximize light and air flow throughout the space; live plants improve air quality. LVT flooring, selected for durability, meets WELL and LEED certification standards and is free of phthalates (particularly detrimental to children).
The resulting design offers a new take on the clinical: a clean and neutral space in which harsh corners are softened and stress and tension is substituted with serenity, embodying the clinics holistic approach and restoring smiles to young patients.
Project Gallery