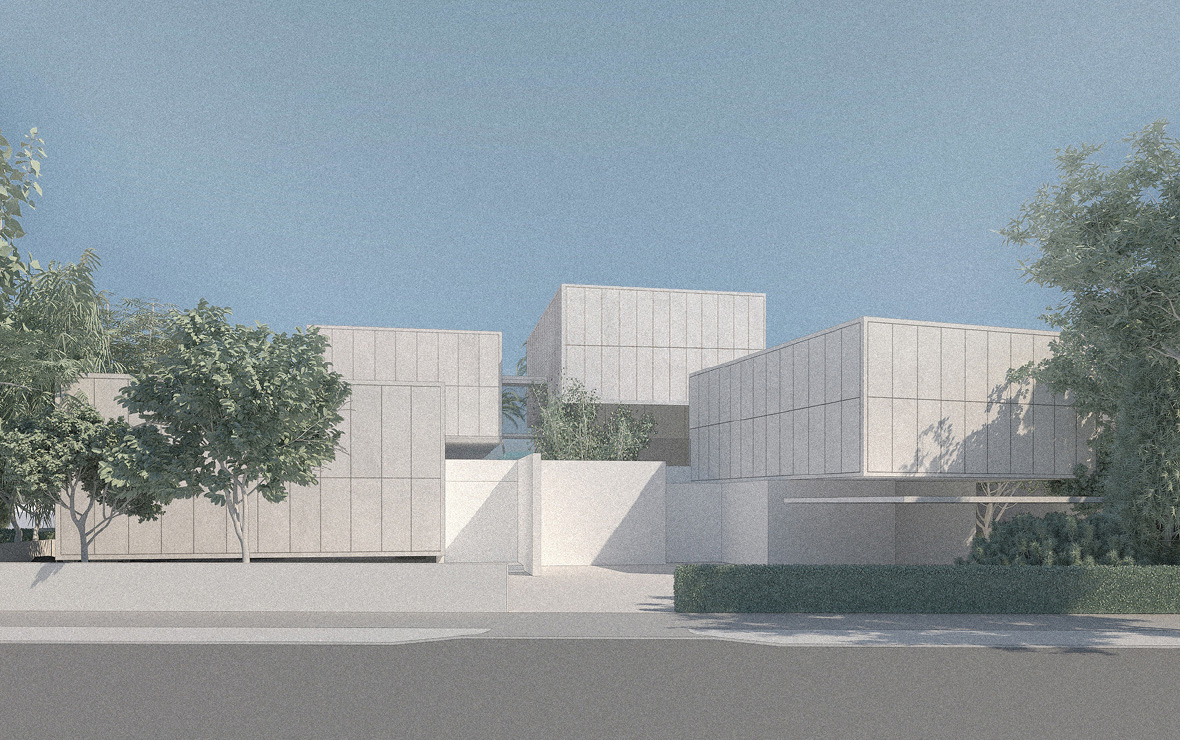 6 Cove Grove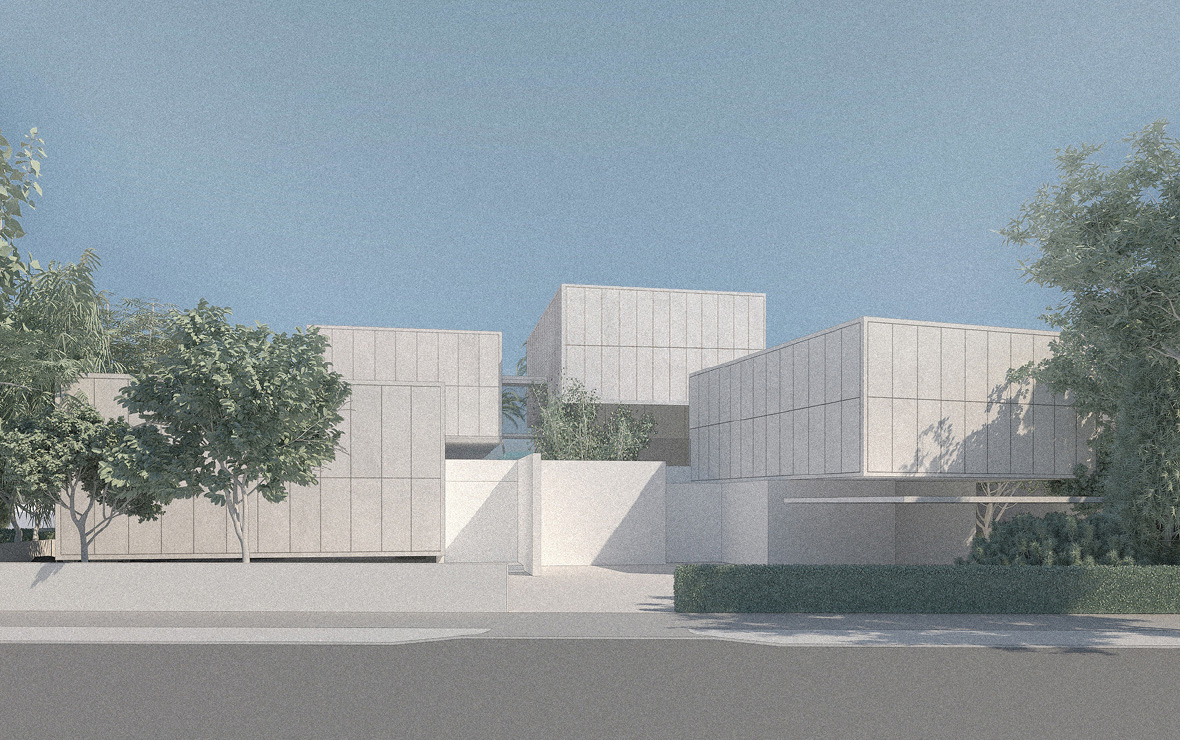 6 Cove Grove
Design: 2019-2021
Located off the Southern Coast of Singapore's main Island, 6CG sits on a land parcel facing the Singapore Strait of the South China Sea with views towards a cluster of Indonesian Islands. Over the years this land reclamation project has become one of the most exclusive sites for residential development in all of Asia. Formerly a military base the island was renamed Sentosa, meaning "peace and tranquility" in Malay, signaling the coming changes to the island and Singapore's culture at large.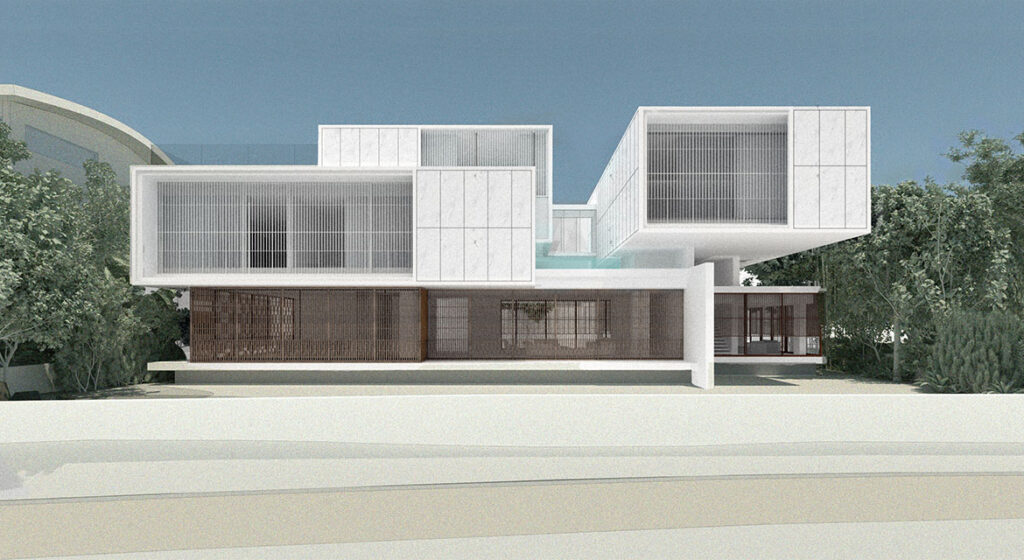 Our design for 6CG, a 1326m2 private residence for a wealthy family with deep roots in Singapore, furthers this tradition with our contemporary reinterpretation which is inspired by the traditional Black and White bungalows of Singapore. The "Black and White" style was popularized by colonial British families, fusing elements of Victorian Style homes with Malay Banglo (Bungalow) building methods–elevated foundations, open ground floors, highly pitched roofs, and deep overhangs to combat the tropical weather, floods and insects. The name specifically refers to the common look of elements like dark wood beams and white walls. These bungalows are preserved to this day and stand as a bookmark in Singapore's history.
Following the precedent and reclaimed the style we designed on a platform with deep roof overhangs achieved by a series of cantilevered volumetric masses, large expanses of operable screening have been incorporated throughout providing deep weather-shaded areas. These stacked masses along with a pinwheeling layout leaves the first floor open and free, allowing for the interstitial courtyards created to provide both maximum shaded surface areas for breezes but also an integration of lush tropical landscaping on a tightly confined site. At the level of a typical pedestrian flaneur, the house reads as open along the seaside where there is the heaviest foot-traffic. The end goal is significant and symbiotic fusing, of landscape and house, in a contemporary tropical style to provide the client with a space that is tranquility complex in how it unfolds and speaks to a unique life on Sentosa.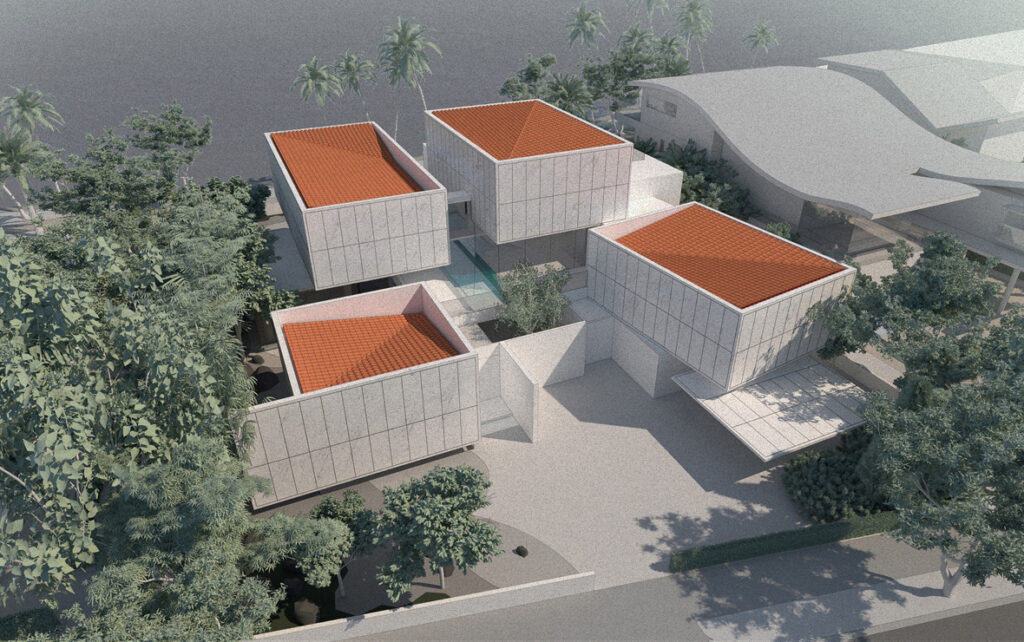 Two members of the OLI team with environmental design degrees and wide-ranging experience in sustainable architecture helped address some of the specific issues in realizing the designs; tropicality, natural ventilation, integrated landscaped gardens, screening, shadowed areas, outdoor lifestyle, etc. to distill down to our singular aesthetic architectural gesture. On the surface the building parti with courtyards, overhangs and stacked volumes are arranged in such a way to promote natural airflow through and across interior spaces via temperature differences from pockets of cool air at shadowed deep overhangs to warm exposed surfaces. The open ground floor finished with limestone tiles ensures it remains cool to the touch throughout the day with air circulation under the living quarters, i.e. Malay housing. Beneath the surface and out of sight, these seemingly simple techniques are highly technical and calculated design strategies working to embrace and address new and ever deepening architectural concerns of sustainability for a modernized bungalow in the 21st century.
Project Gallery